We have collected 29 Best Admin Dashboard Bootstrap Template 2017 to help you find the best and useful dashboard for your next website. Your dashboard plays an important role in tracking key performance indicators, metrics and other data relevant to your website. Furthermore, dashboard help you quickly respond to any issues thus provides better service to your clients or customers. More happy customers mean increased profits.
These premium templates are highly responsive, so it will always look good on tablets and mobile devices. Moreover, most of these dashboards are developed using bootstrap 3 to 4 versions along with CSS, Javascript and HTML5. Apart from that, each template has beautiful and innovative design that you would surely love. So, if you have been hopping around looking for the perfect dashboard for your website, then check out these templates today!
VueJS Laravel Admin Template -VueA
VueA is one of the top most admin template Vuejs & Laravel with bootstrap 4, gulp nunjucks. VueA admin template includes different layouts, Multipul color schemes.
Some of the features include: VueJS, Laravel, Bootstrap4, Vuerouter, API, BootstrapVueA, Fully, based on VueJS, No jQuery used, 7 layouts options provided, multiple breadcrumb designs, multiple color, schemes added, example, API usage with weather available.
This Rare Admin Template Builder is a great way of quickly getting your next project up and running or use it as a learning resource to see how to implement all these components.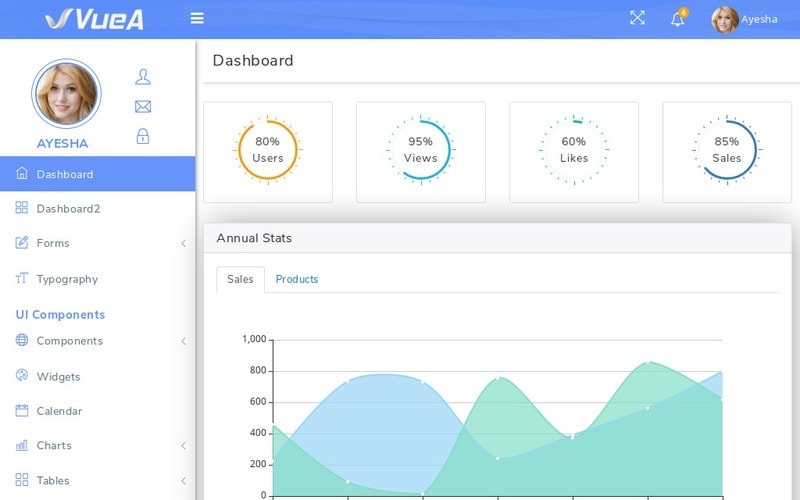 Metronic
Metronic is an admin dashboard template powered with Twitter Bootstrap 3.3.7 & AngularJS 1.5 frameworks. Metronic comes with 6 complete admin layouts. It's sleek, clean and intuitive design can be used for any type of web applications: custom admin panels, admin dashboards, eCommerce backends, CMS, CRM, SAAS.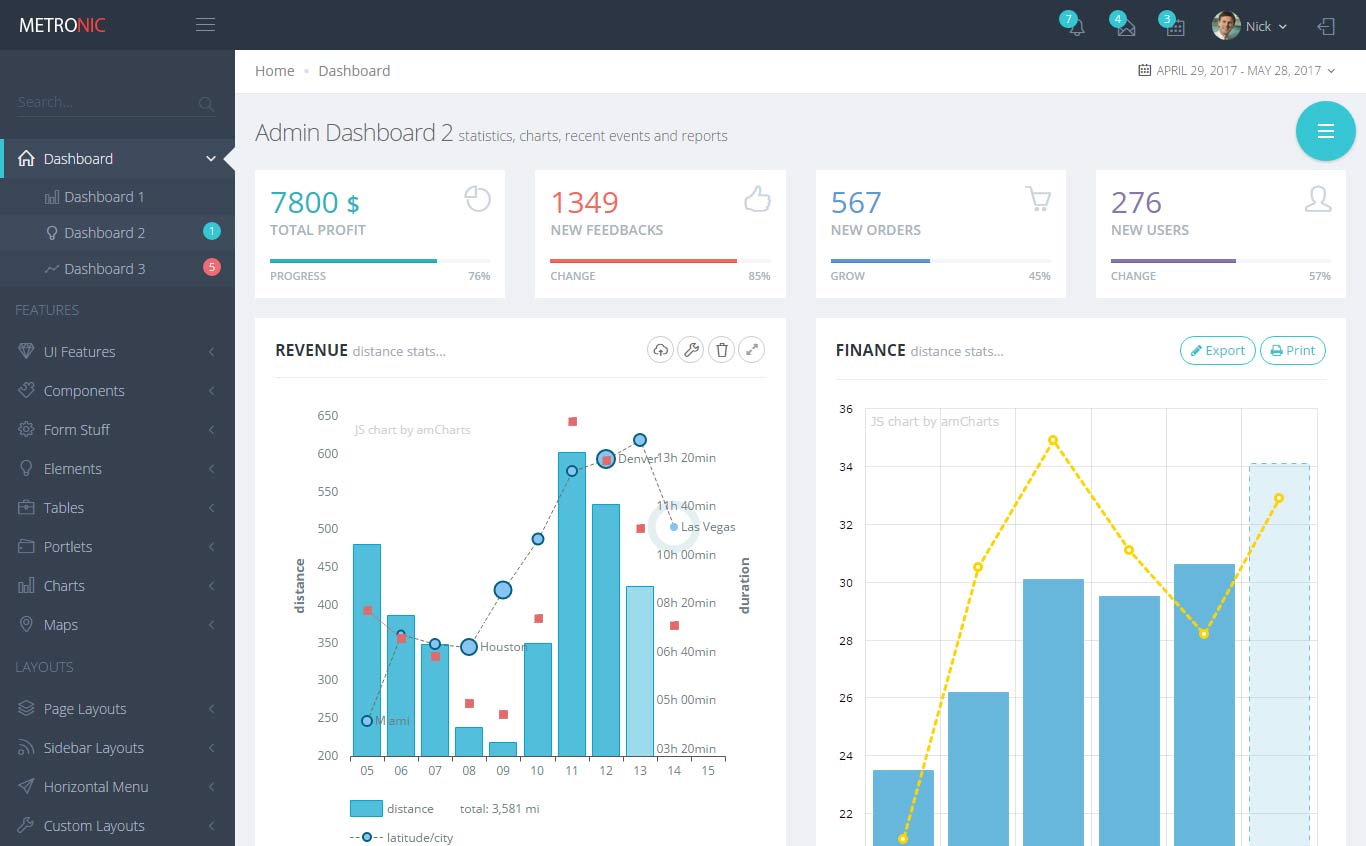 Angulr
Angulr is a bootstrap admin Web App with AngularJS. Angulr features AngularJS, AngularUI, Lazy Loading, Grunt tasks, Bower dependency management and many more essential features.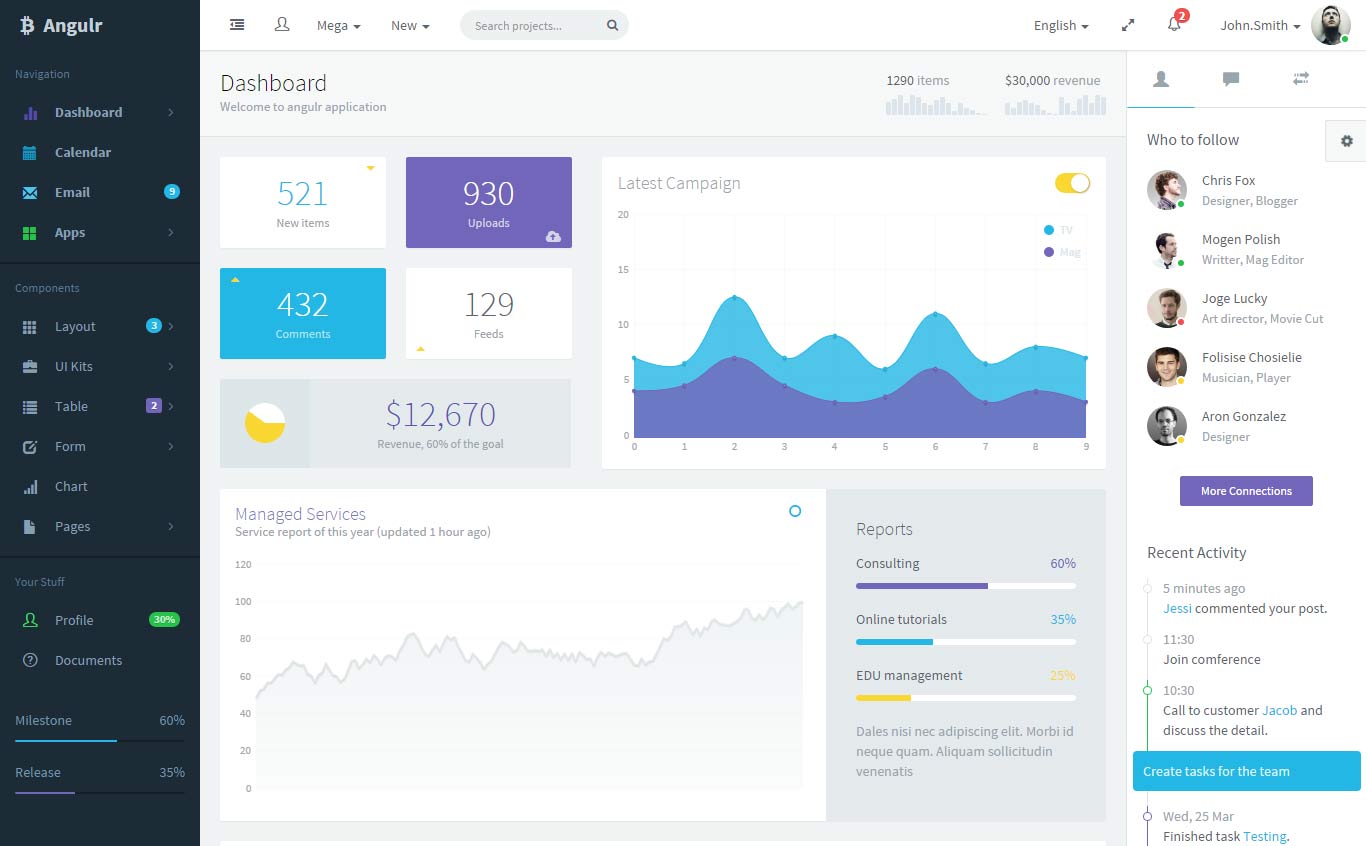 Pages
Pages is an admin dashboard template and Web App with simple yet sophisticated design. It has a smooth UI/UX and supports AngularJS and MeteorJS.
Limitless
Limitless is a clean and flexible admin template based on Bootstrap and LESS.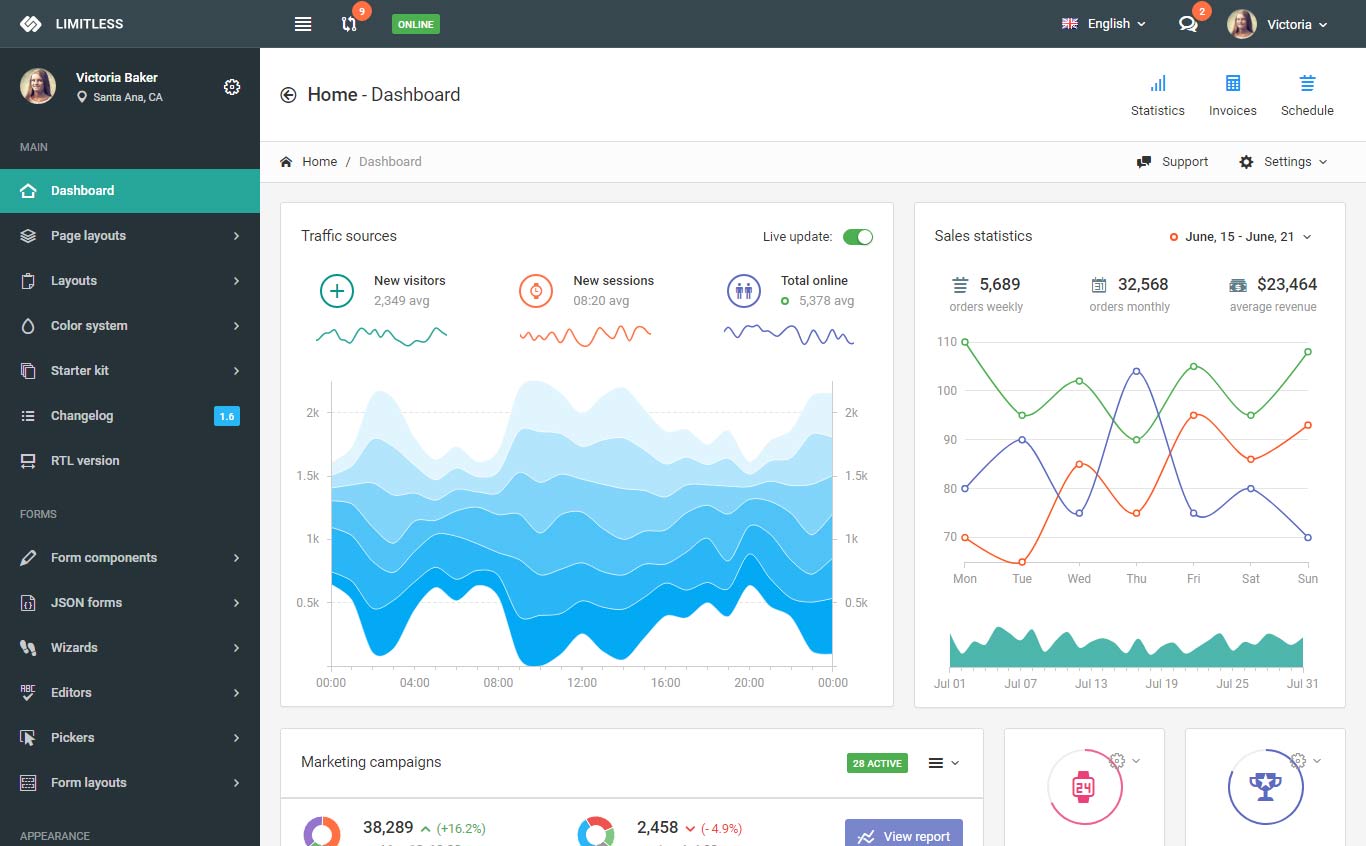 Remark
Remark is a premium admin dashboard template based on Bootstrap 4. Remark features Flat UI with clean style, Angular UI support, Modular SCSS/LESS files, Grunt tasks, Bower Dependency Management, Code optimize with tools (htmlhint, jshint, lesshint, csslint, bootlint) and much more to see.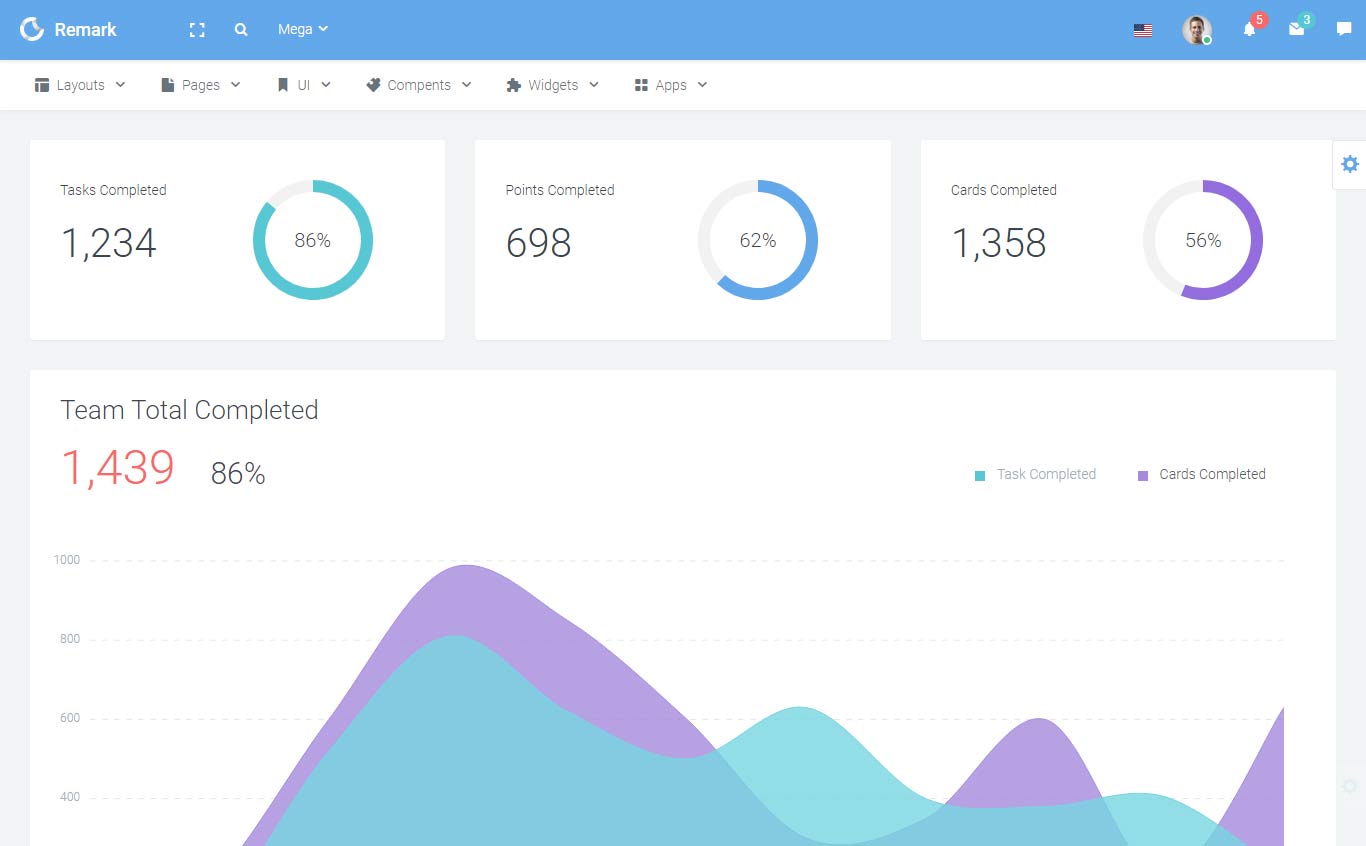 Porto
Porto Admin is a professional admin template that comes with dashboard, mailbox, widgets, charts and exclusive map builder and much more. It's fully responsive and comes with light and dark versions.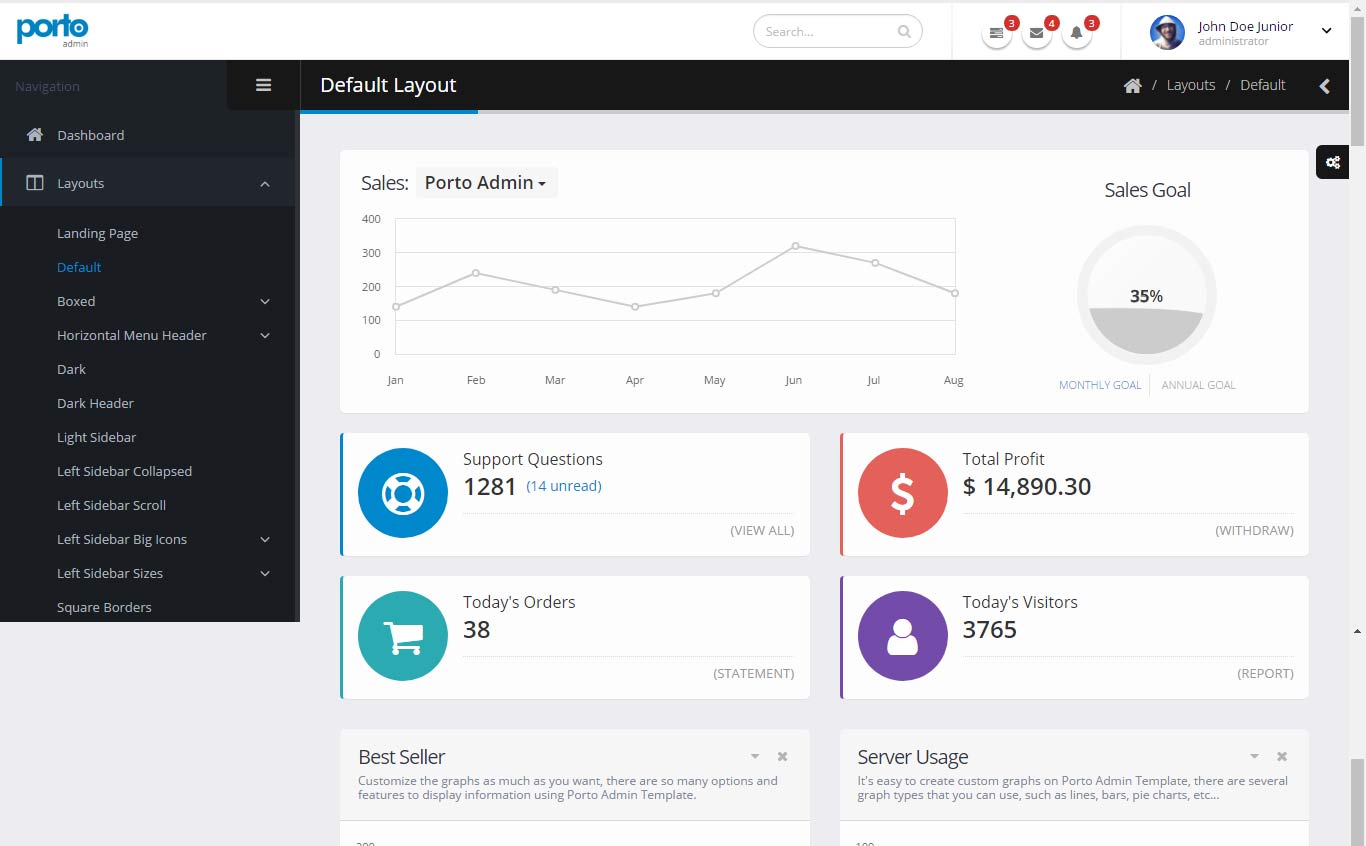 Neon
Neon is flat admin template for multi-purpose usage built with Bootstrap 3.3.5. It comes with admin dashboard, front-end template, 9 skin colors, profile page and timeline, chat API, gallery management, data tables, user timeline, calendar plugin and so much more.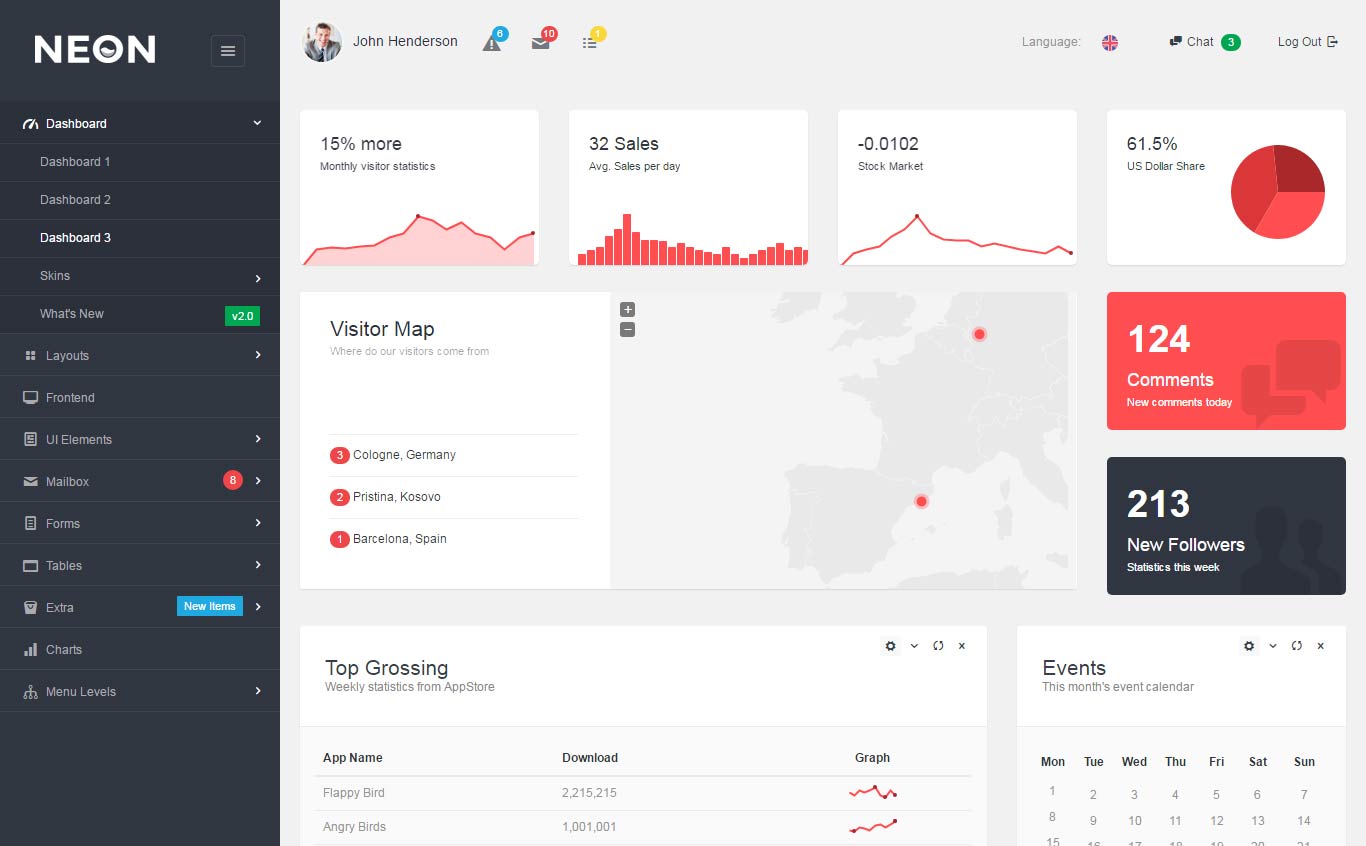 FlatLab
FlatLab is a fully responsive admin dashboard template built with Bootstrap 3.3.7 Framework, modern web technology HTML5 and CSS3. It has a huge collection of reusable UI components and integrated with latest jQuery plugins.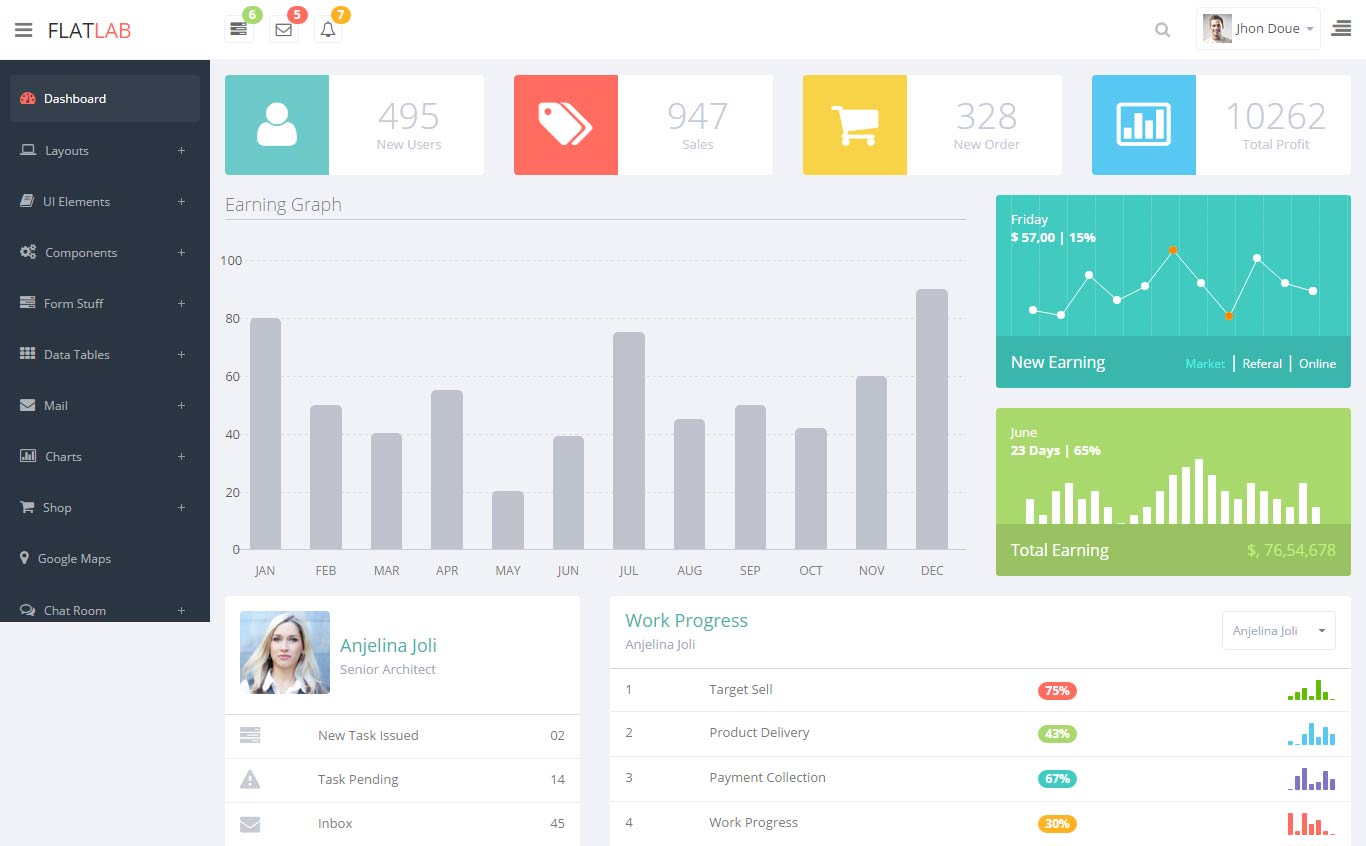 Bucket Admin
Bucket Admin is a premium admin dashboard template with flat design concept. Bucket Admin has Flat color, Customized Chart, Easy to customize and developer friendly code. It is fully responsive admin dashboard template built with Bootstrap 3+ Framework, HTML5 and CSS3, Media query and more.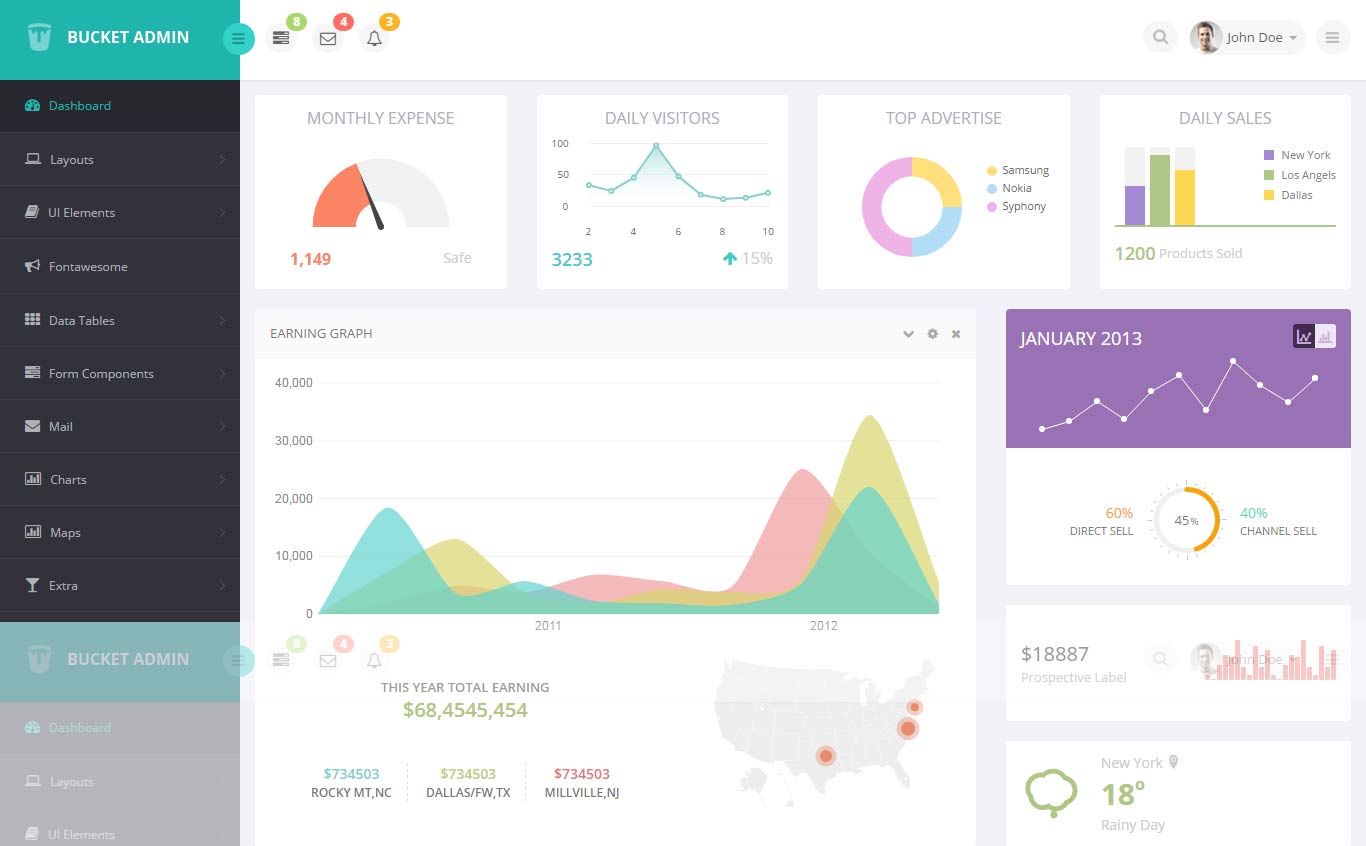 OneUI
OneUI is a super flexible UI framework based on Bootstrap and AngularJS that will enable you to build your backend and frontend pages using the same fast and powerful layout. It comes packed with 4 different versions, Get Started, HTML, PHP and AngularJS to help you rocket start your project the way you want.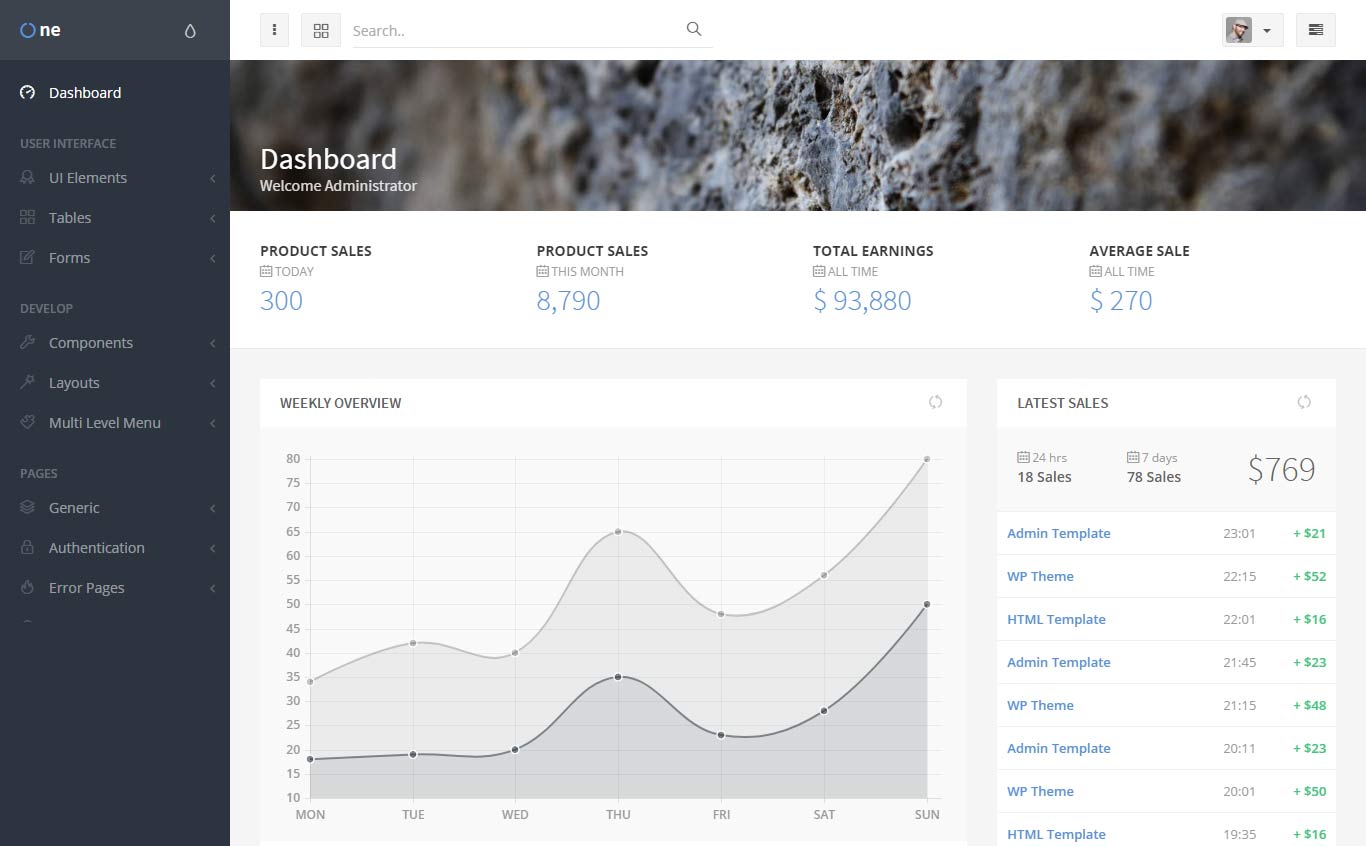 Xenon
Xenon is a lightweight responsive admin theme built with Bootstrap and contains plenty of UI components, layout variants and theme skins which make a total of 136 HTML files.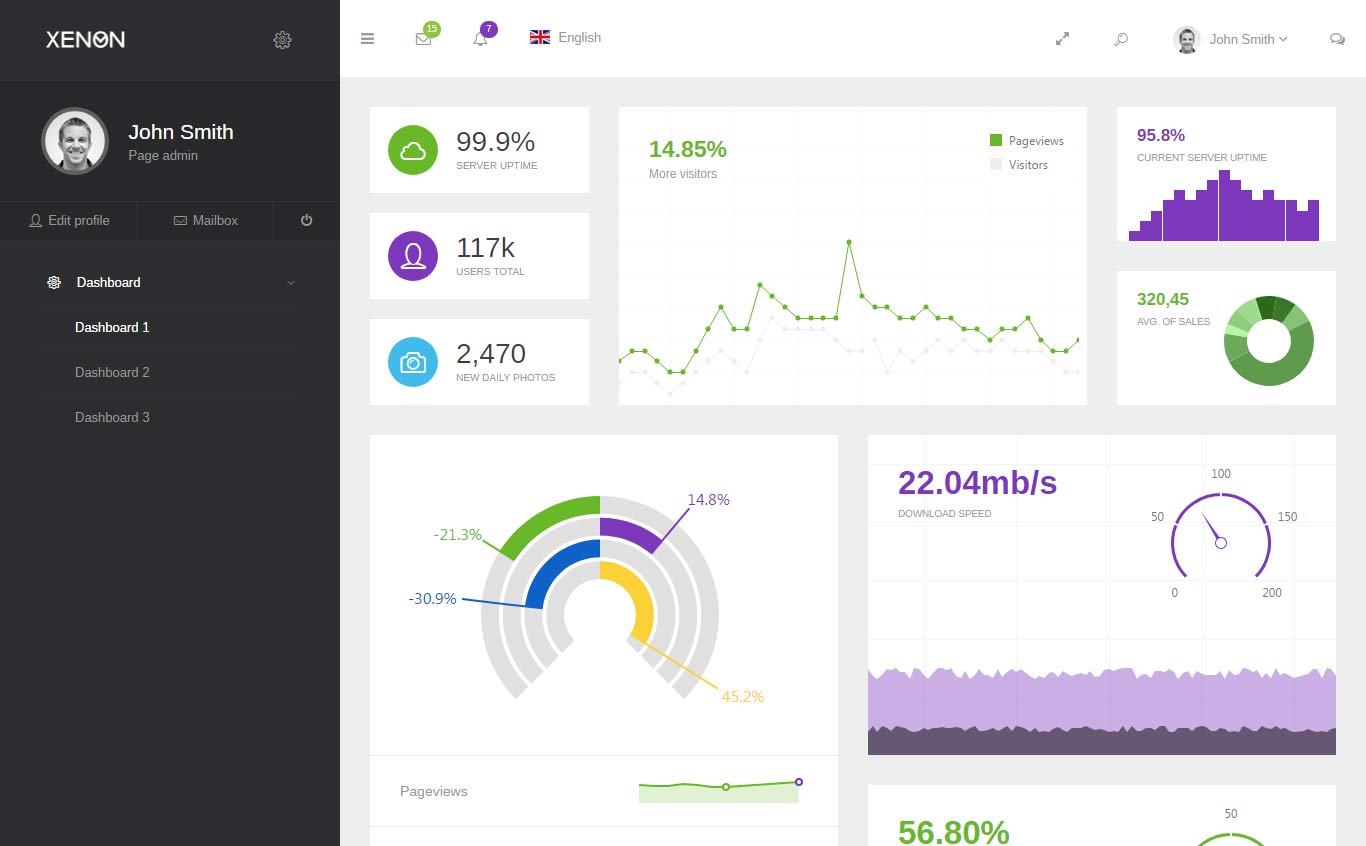 CleanUI
CleanUI is a modern professional admin template, based on Bootstrap 4 framework. Clean UI is a powerful and super flexible tool, which suits best for any kind of web application: Web Applications; CRM; CMS; Admin Panels; Dashboards; etc. Clean UI is fully responsive, which means that it looks perfect on mobiles and tablets.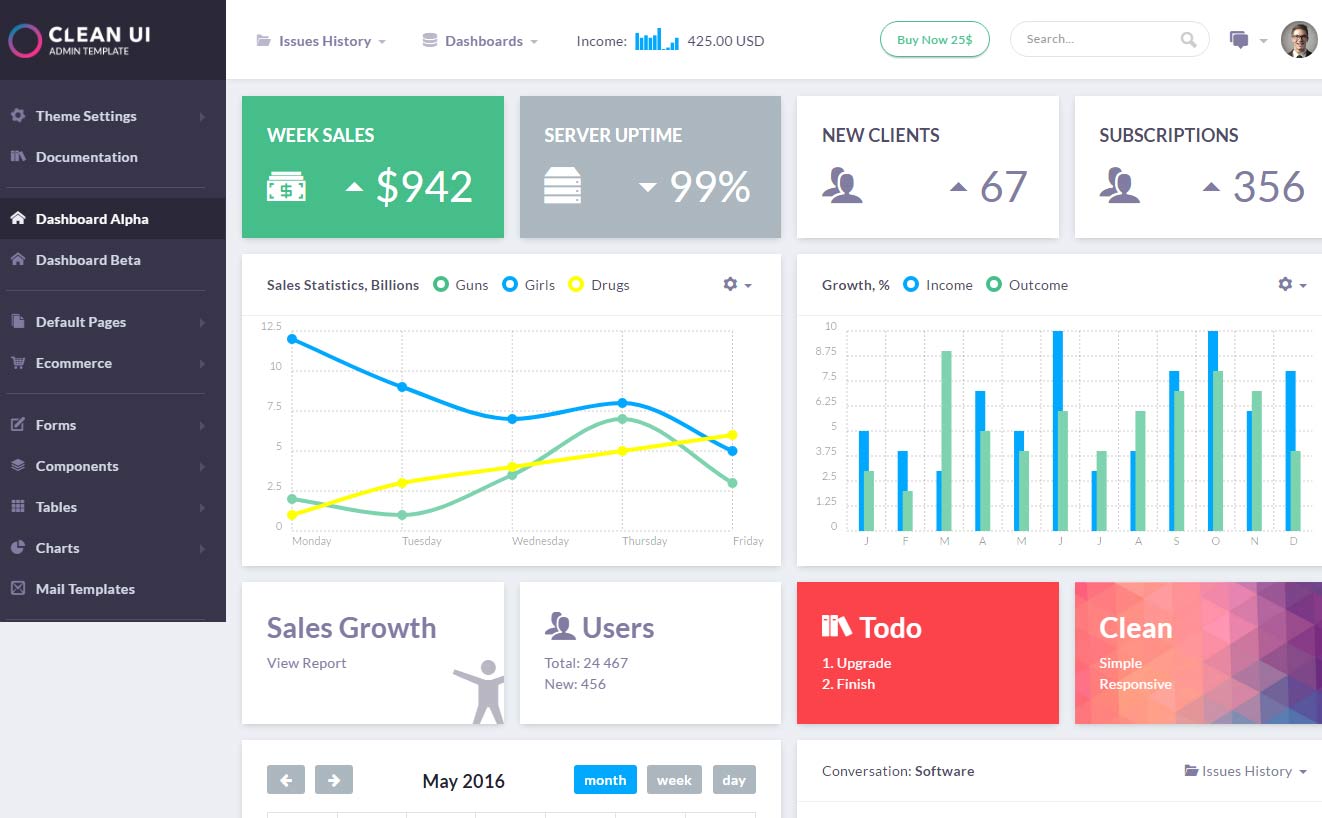 Primer
Primer is an admin dashboard template built with Angular 2. It comes out of the box with AoT and lazy loading support, Language translation , RTL support and light and dark colour schemes. With this, you get all you need to start working on your SAAS, CRM, CMS or dashboard based project.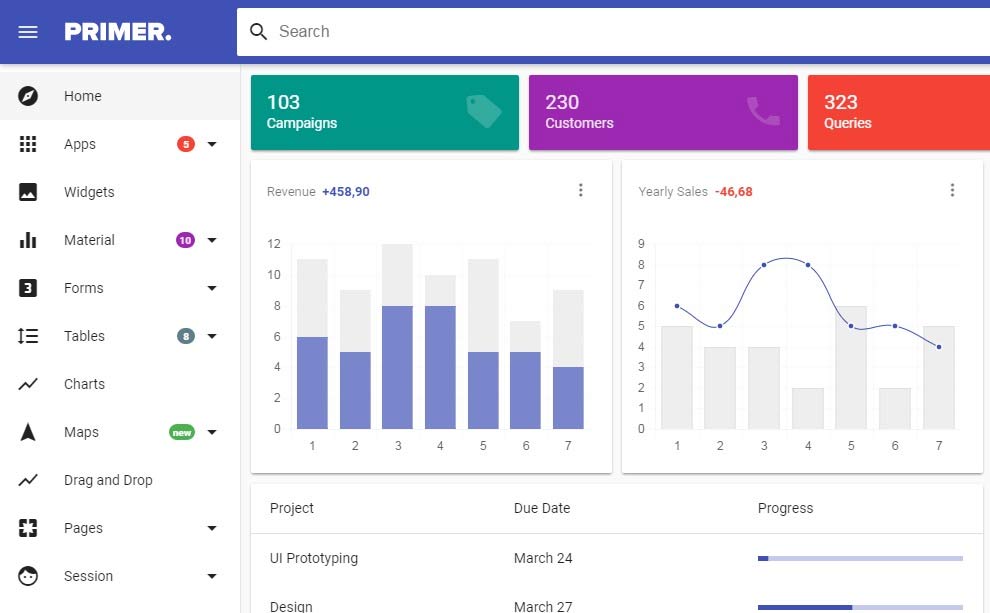 Beagle
Beagle is a responsive admin template based on the famous Bootstrap framework, made it with love in every pixel, with tons of beautiful features ready to use.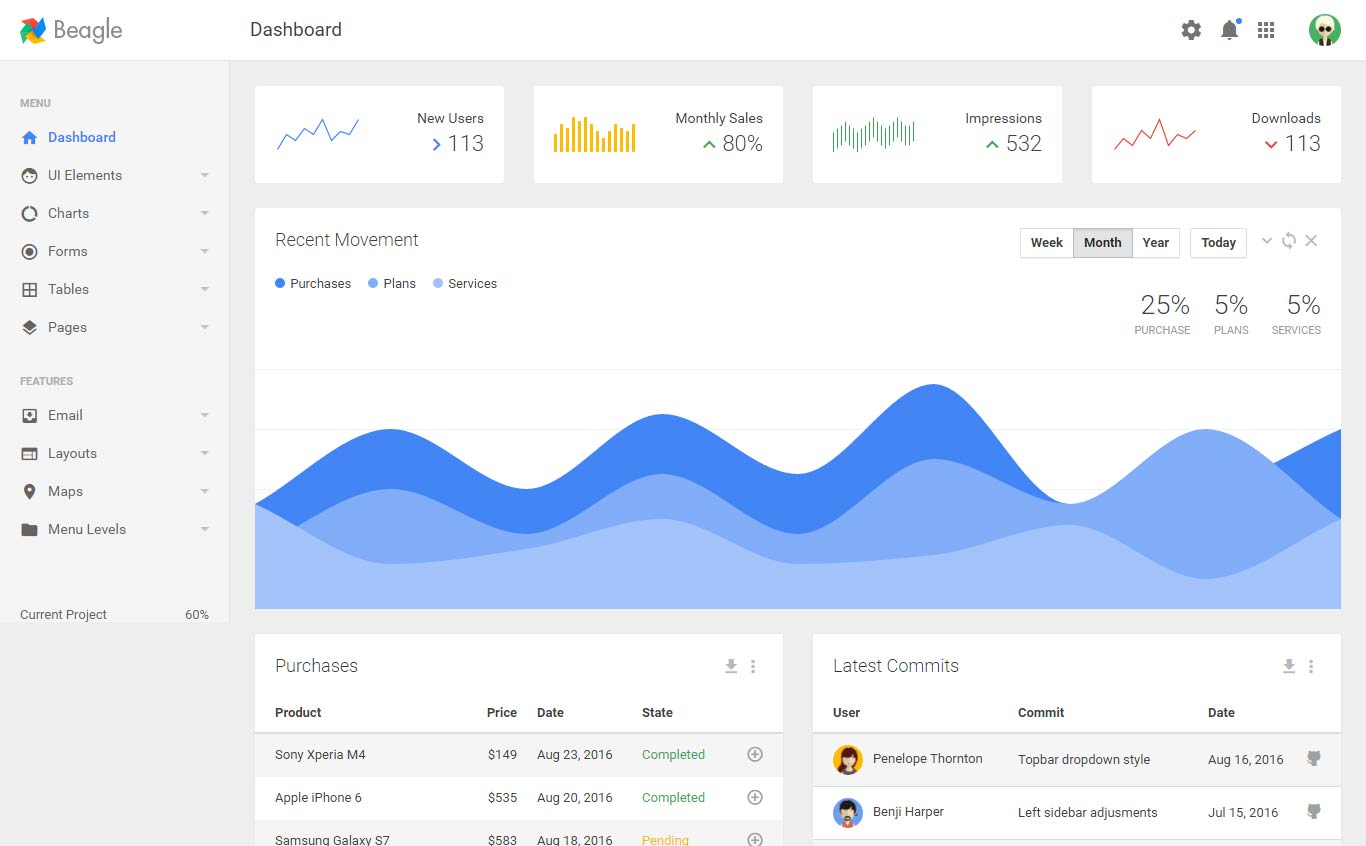 Material Admin Web App
Material admin web App is a Google Material Design inspired admin template built with Angular 2 (Now Angular 4) & Bootstrap 4.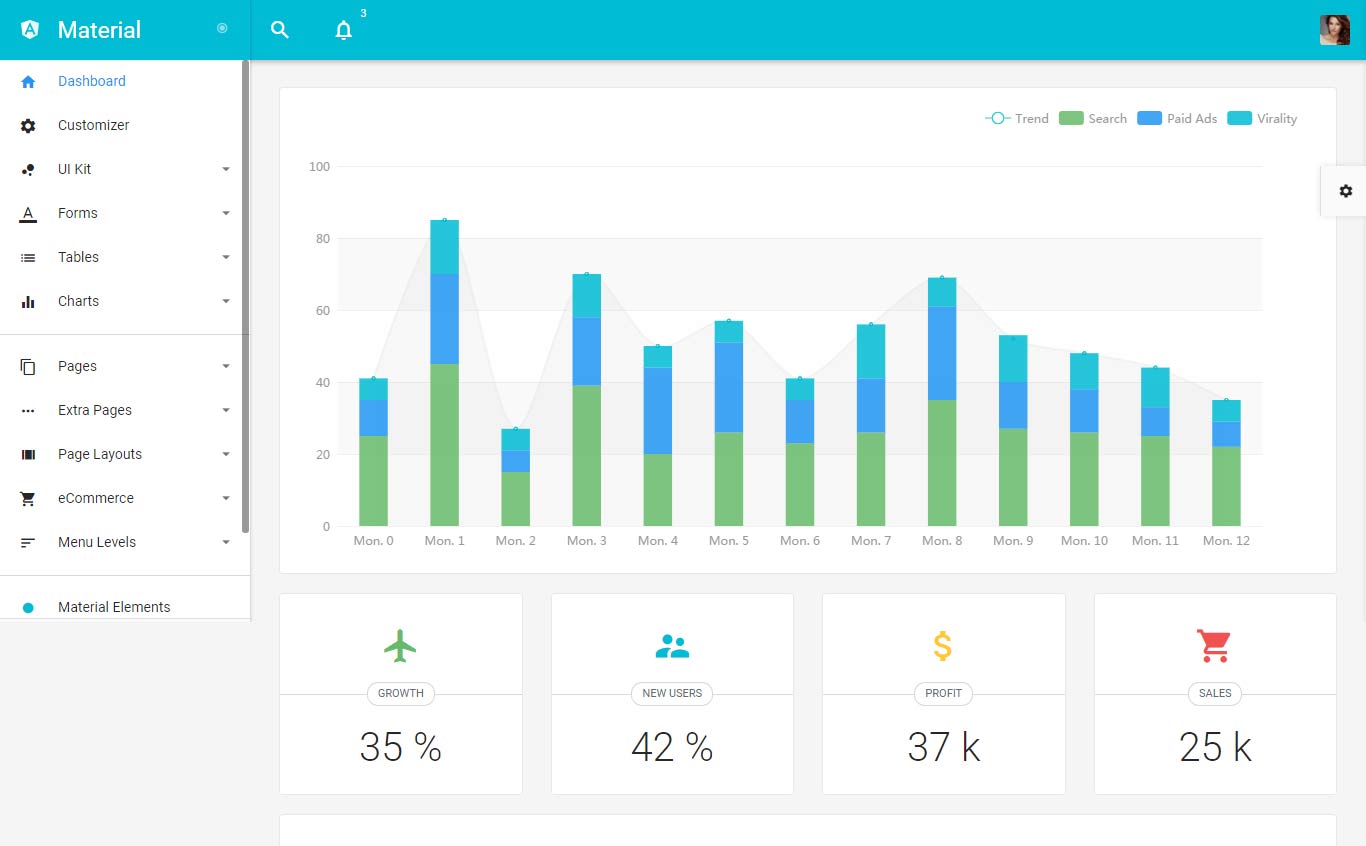 Clear
Clear Bootstrap + VueJS Admin Template is a bootstrap based admin template for professionals who are looking for clear and clean admin template. It comes in two versions Bootstrap (HTML, CSS files will be provided) and VueJS (VueJS powered Admin Template following VueJS structure which is blazing fast) where you can choose from dark or light version.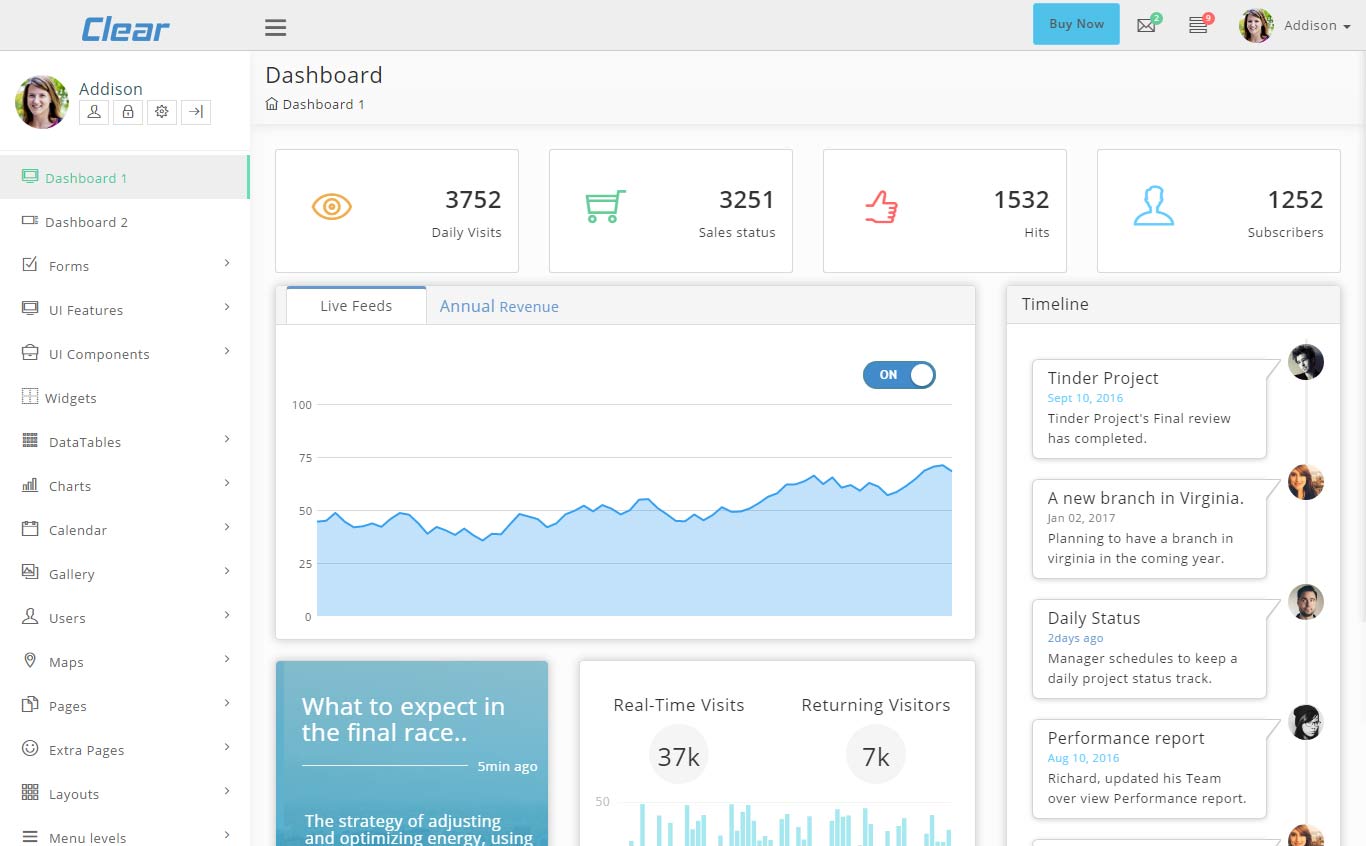 StartUI
Built using Bootstrap 4, StartUI is a premium admin dashboard template with full features necessary to keep track of your website's performance.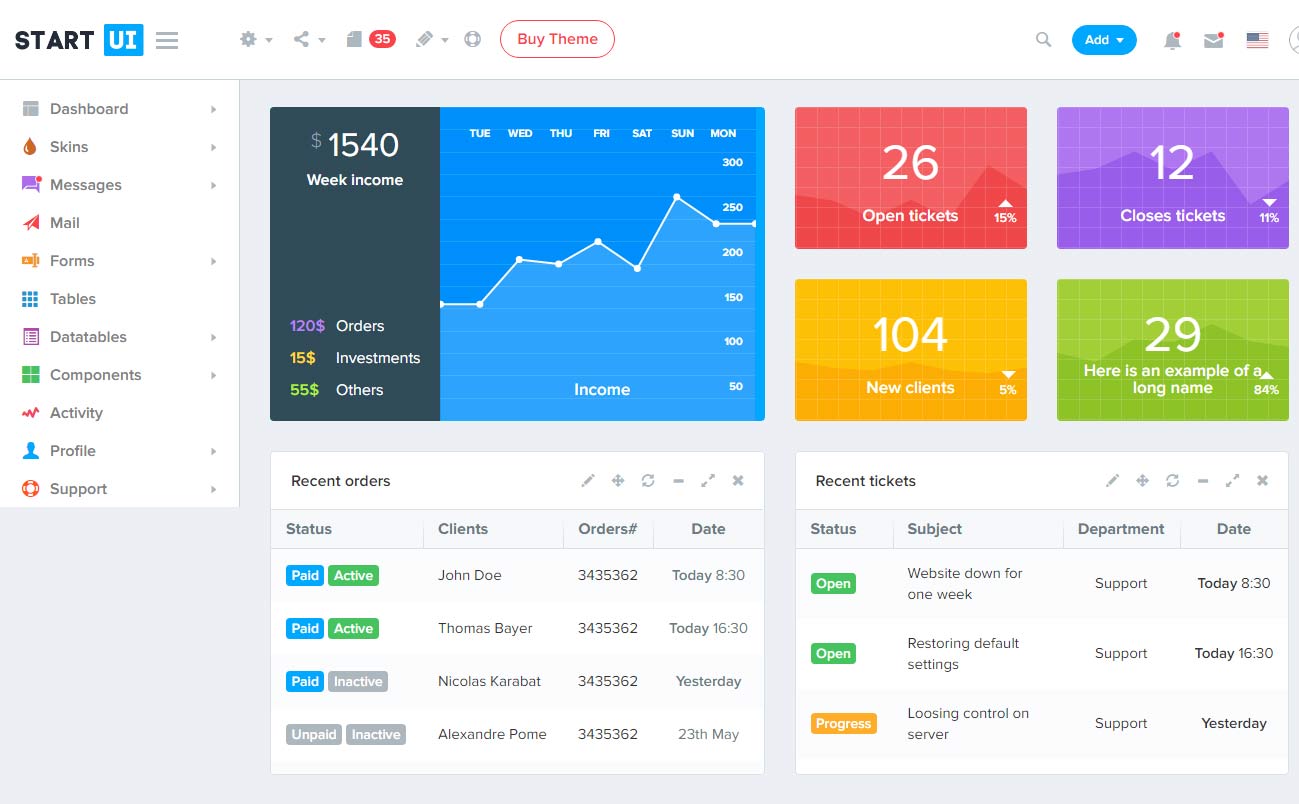 Turbo
Turbo is a bootstrap admin dashboard template built with awesome design and widgets. It's packed with 100 UI components with simple and data tables and charts. See demo now.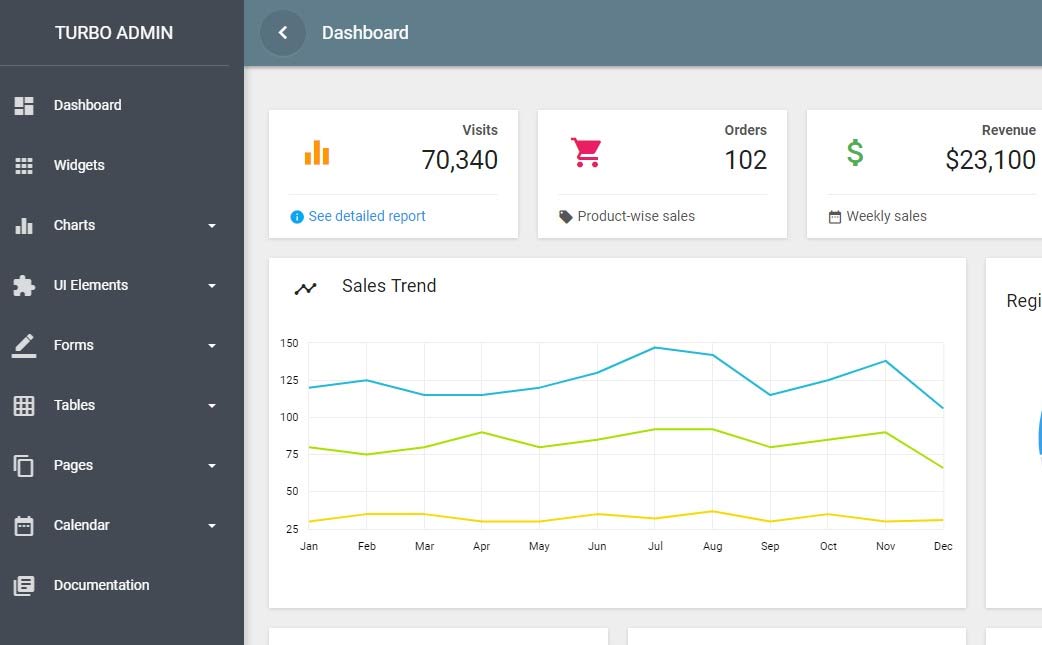 Volta
Volta is an exceptional, futuristic Web Application and Admin Dashboard built with Bootstrap 4, Stylus, CoffeeScript and Gulp.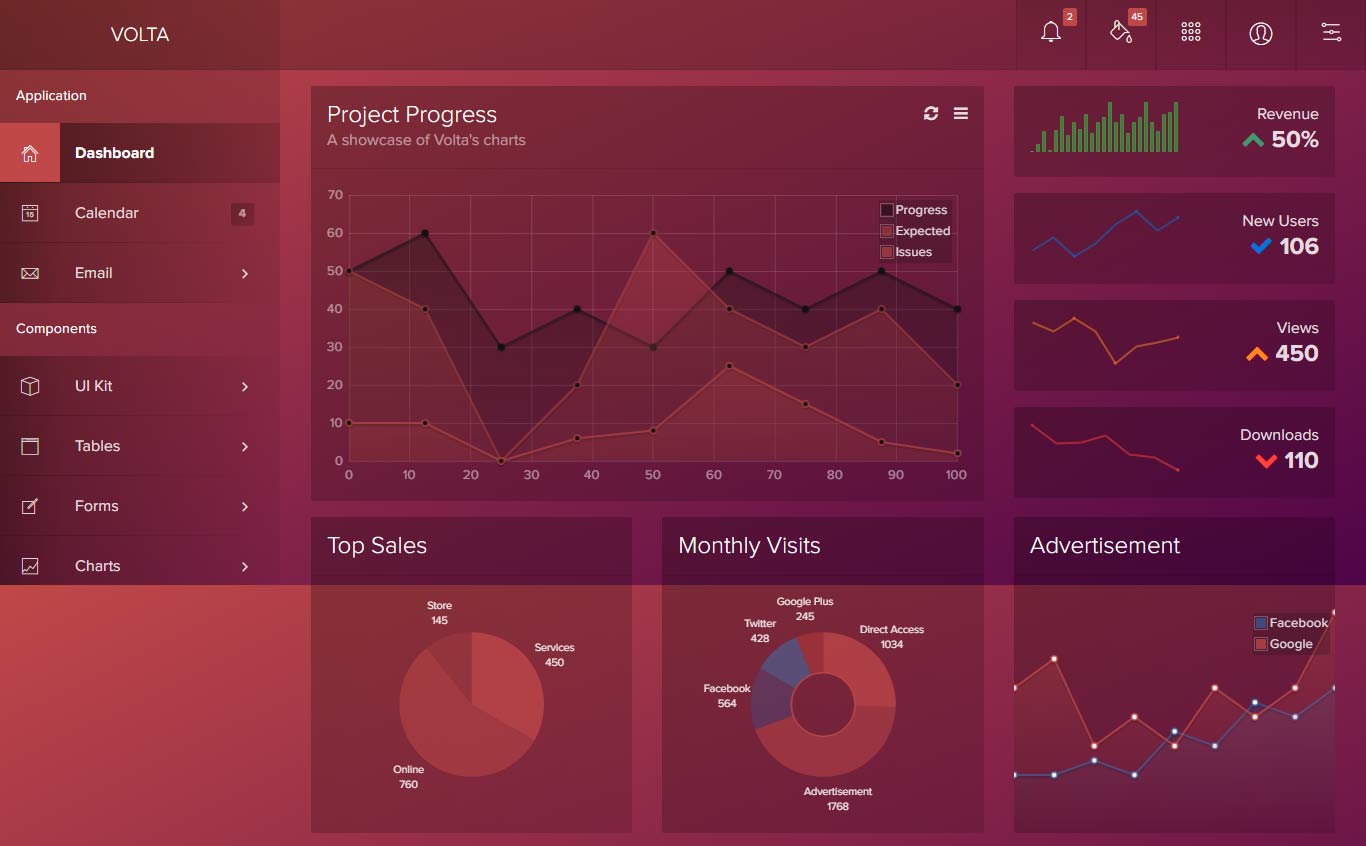 Roosa
Roosa is an HTML admin template powered by Twitter Bootstrap 3.3.7 and HTML5 Boilerplate. Roosa comes with 4 beautiful layout variations.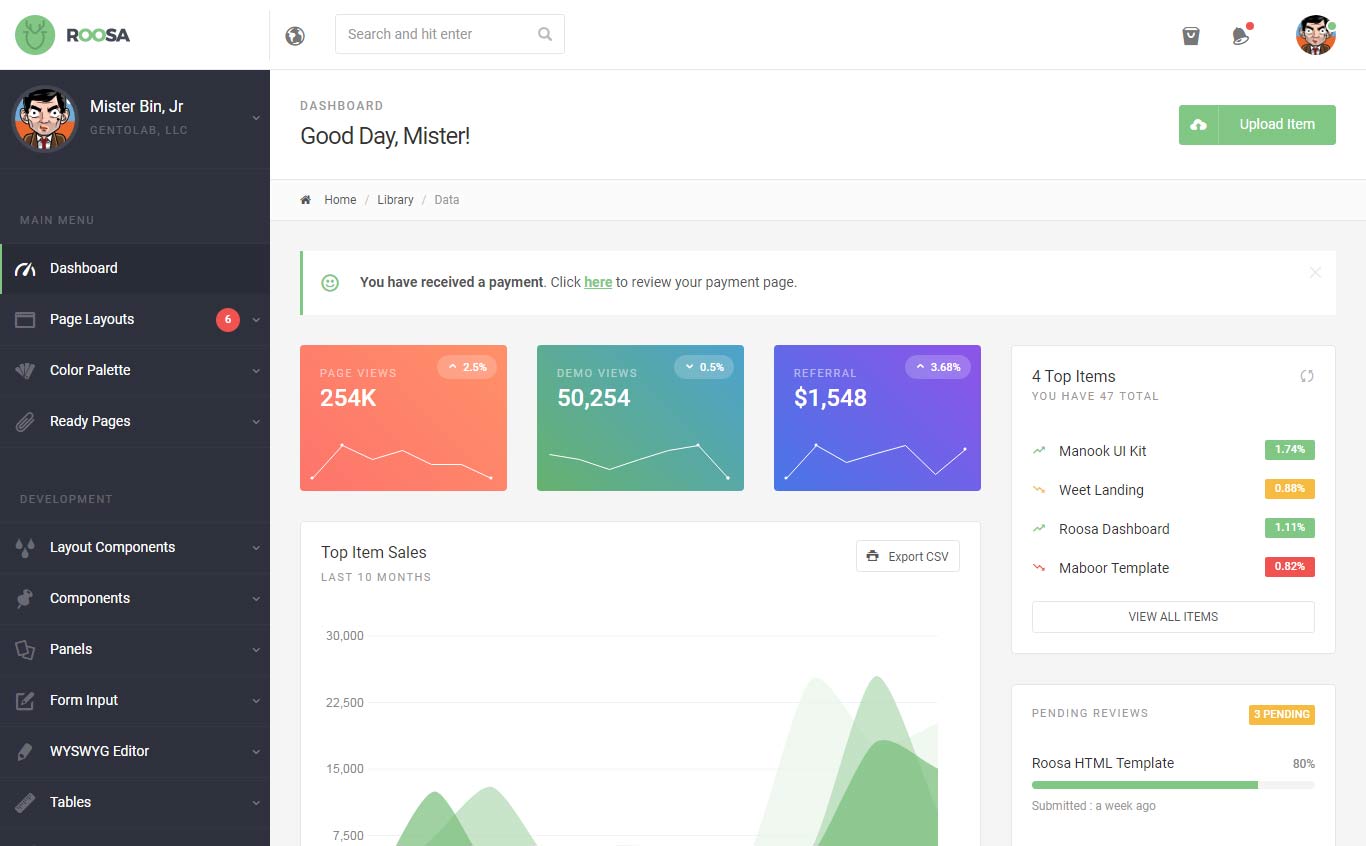 Minotaur
Minotaur is powered by AngularJS. It's built using Bootstrap v3 framework with a clean and well-structured design.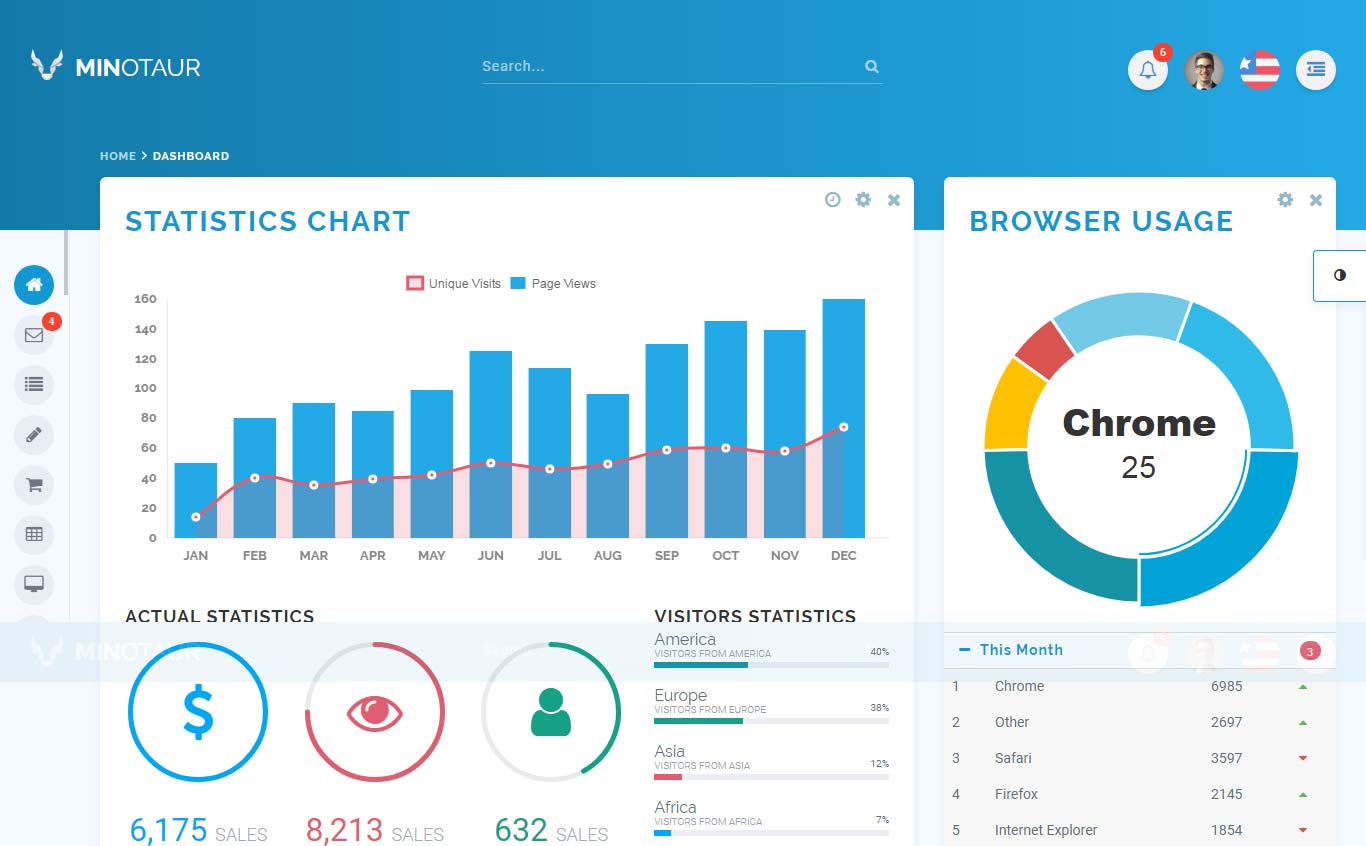 Admire
Admire is a bootstrap 4 admin template powered by Laravel (a very popular PHP framework).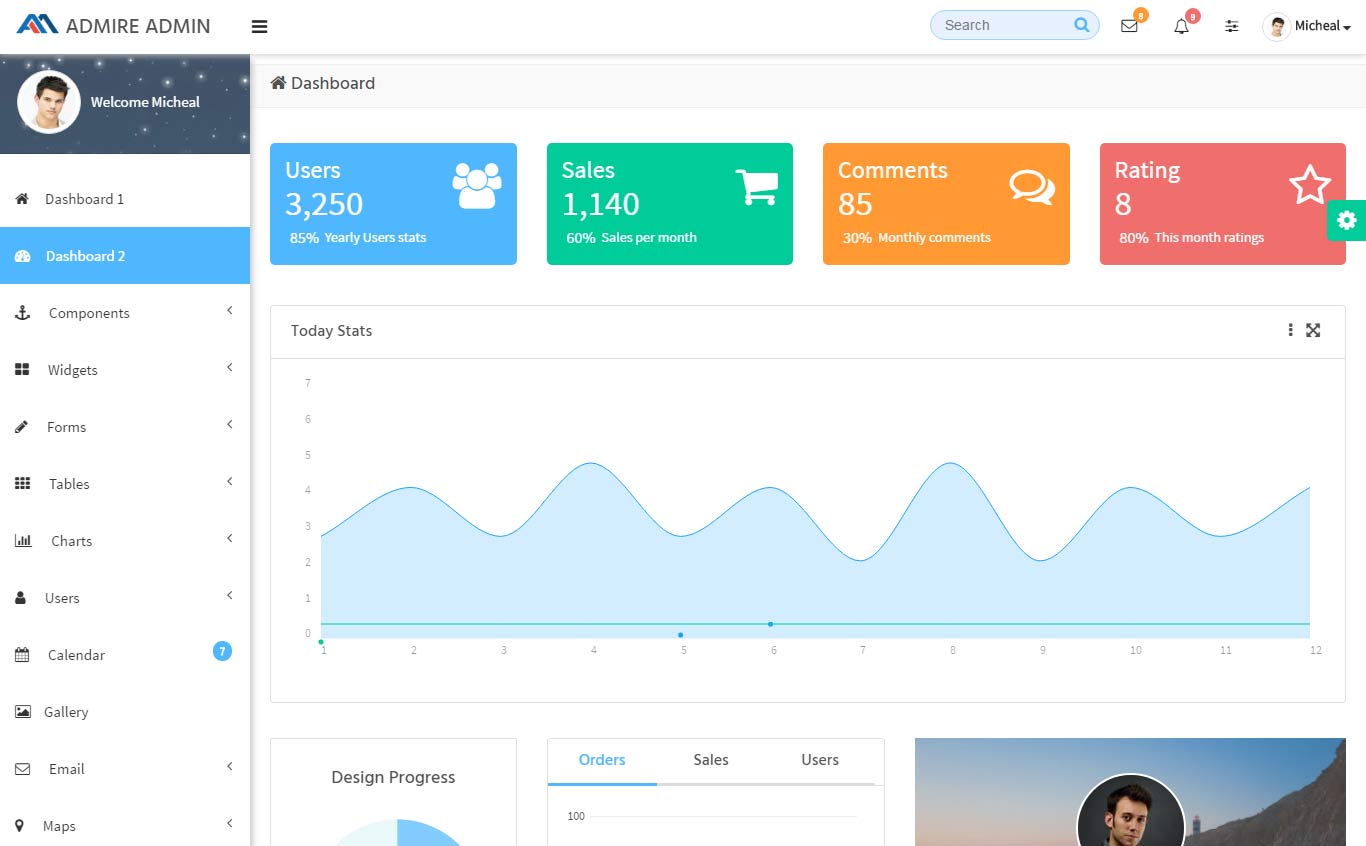 Robust
Robust Admin is super flexible with a clean and modern design. Built using Bootstrap 4 this template has endless possibilities. Robust comes with a Template Builder an offline tool for Windows, Mac, Linux system that lets you build your admin template in just few minutes.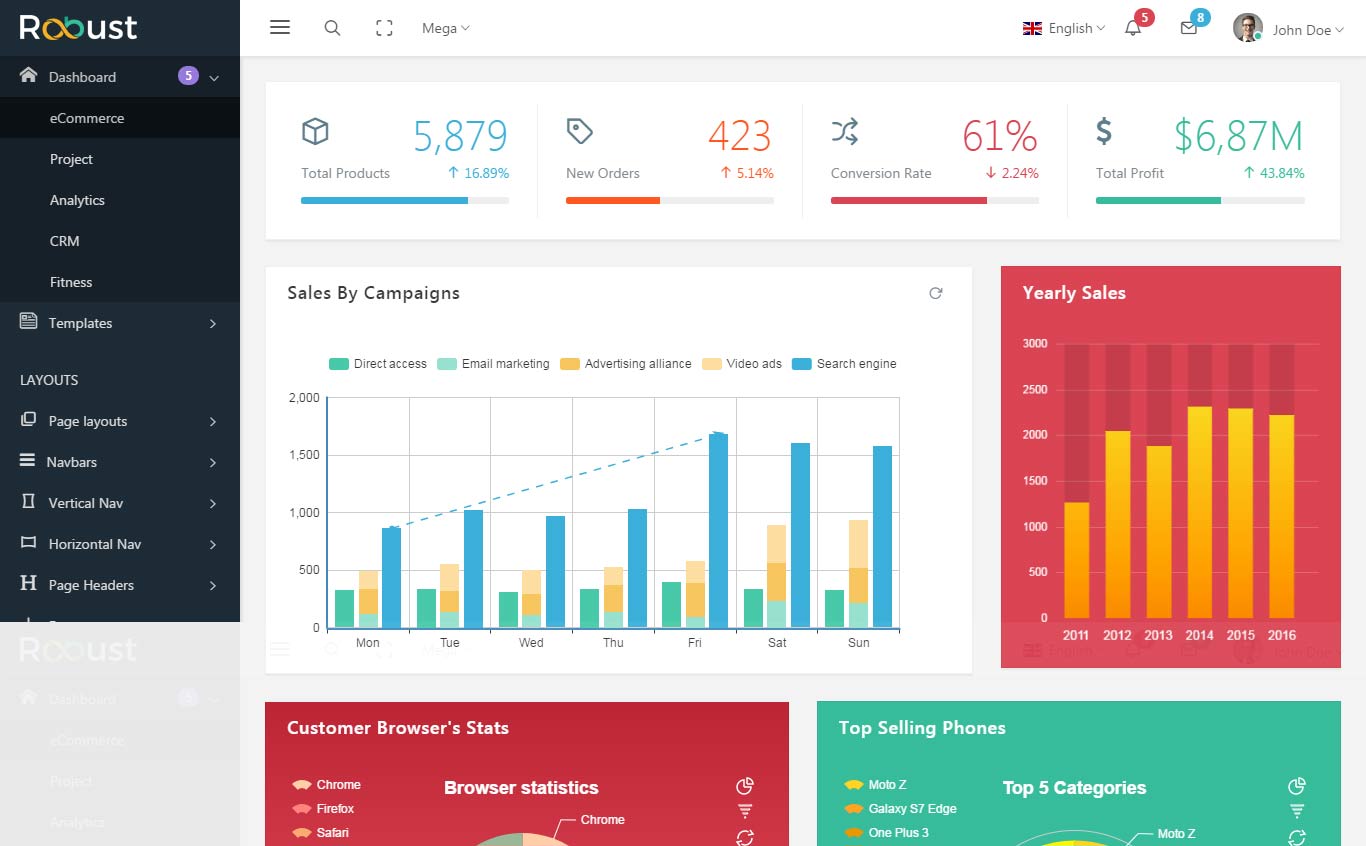 Material Dark Admin
Material Admin Extended Dark is a Google Material Design inspired, powerful-lightweight, fully responsive retina display and compatible admin template based on latest Bootstrap 3.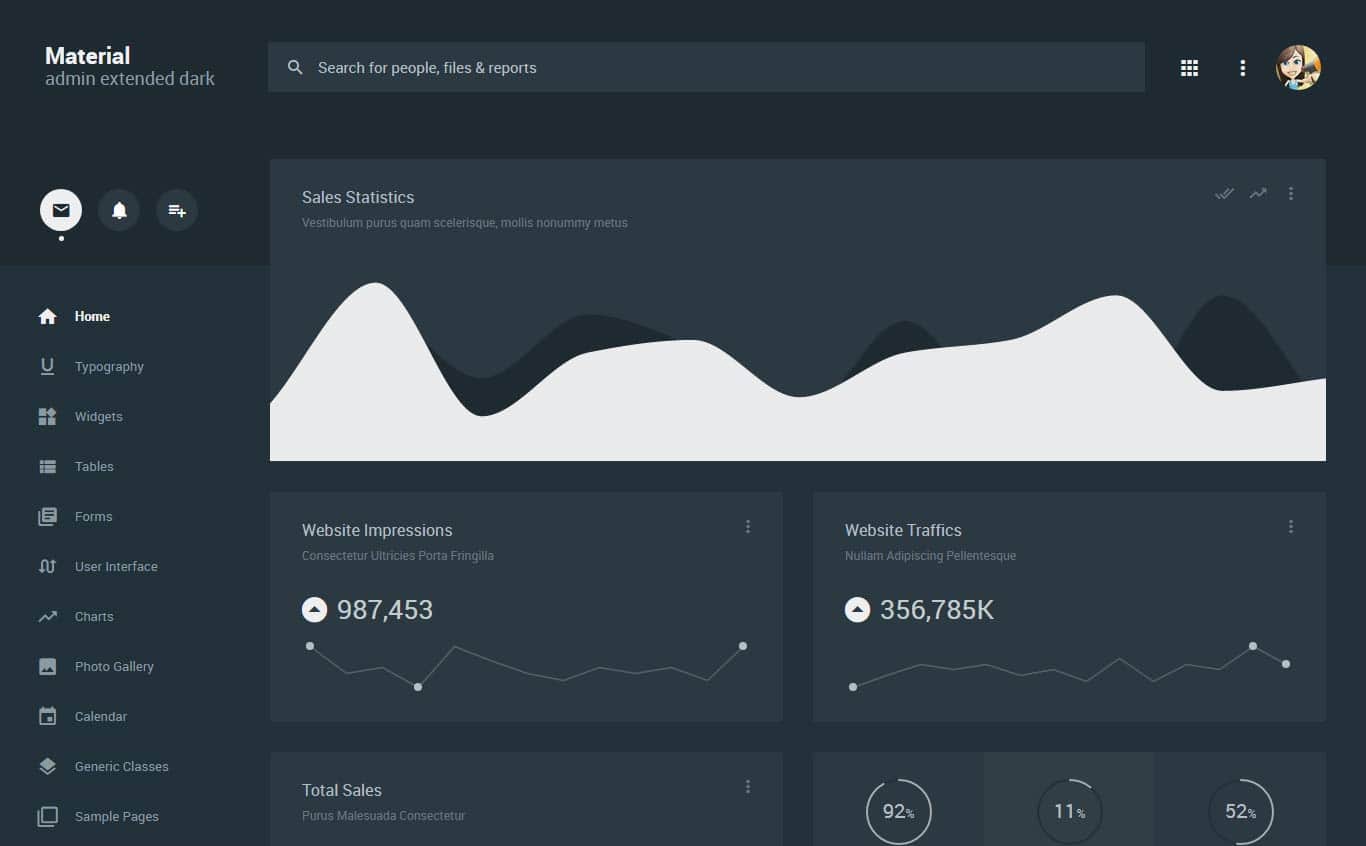 Flat Able
Flat Able is a bootstrap 4 admin template with a flat UI design.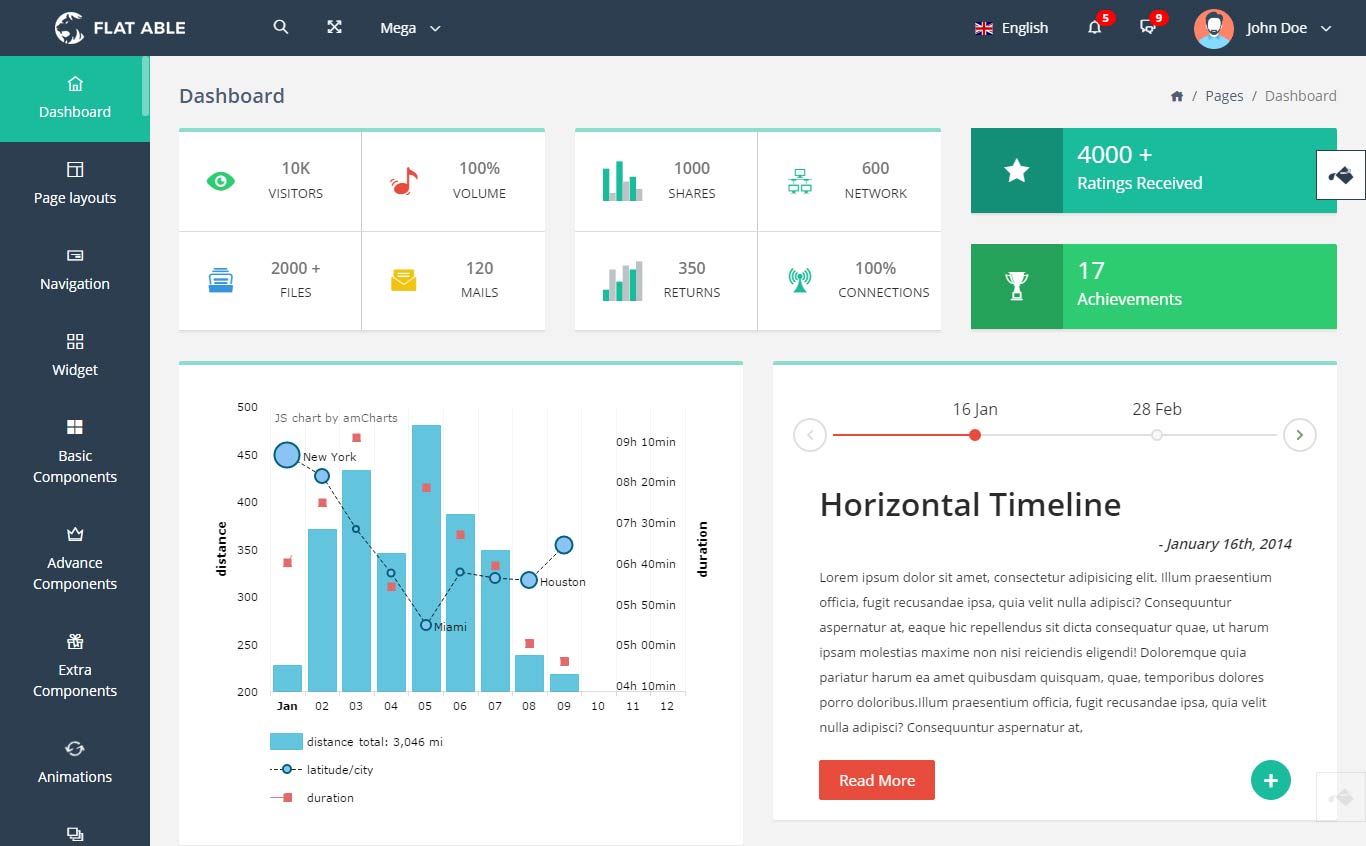 Simple Admin
SimpleAdmin is a responsive admin bootstrap template with a clean user interface and customizable components relevant for your website's dashboard.
OutLay
Outlay is a responsive admin template ideal for any business. It has 13 different color skins and 40 HTML pages.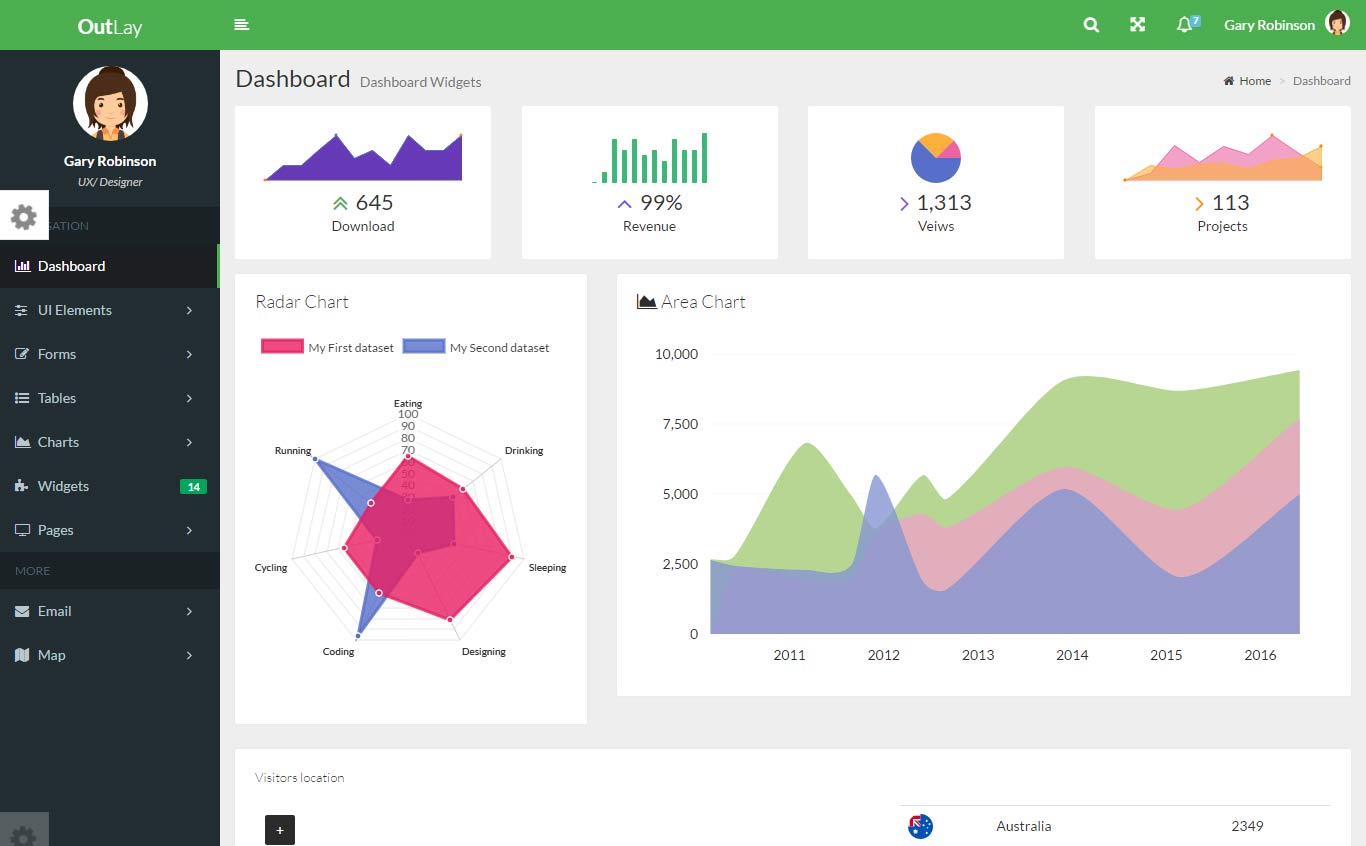 Bootkit
Bootkit is a bootstrap web UI kit powered by Gulp, Bower and SCSS. Bootkit dashboard template has colorful & iconic navigation with 7 chat library. It's ideal for tracking any business you have.